Bolsas DEI-CISUC 2018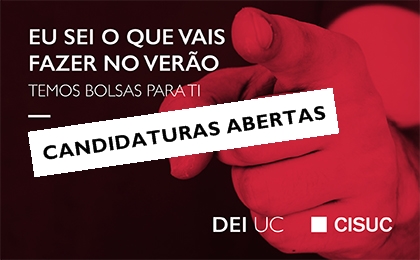 Candidaturas abertas de 09 a 22 de Maio 2018
Encontram-se abertas as candidaturas a 12 bolsas de Iniciação Científica, no âmbito do DEI/CISUC.
Estas bolsas tem como objetivo o desenvolvimento de atividades de iniciação à investigação, em formato Estágio de Verão, no âmbito dos grupos de investigação do CISUC.
Estas atividades vão permitir a alunos de Eng. Informática e de Design e Multimédia conhecer melhor e contribuir para a investigação que se faz no DEI/CISUC.
As propostas de bolsa são as seguintes:
AC
01 – Análise inteligente de dados de sistemas ciberfísicos.
02 – Development of a Matlab querying interface for the EPILEPSIAE database

CMS
01 – Brain Computer Interaction devices comparison
02 – Collecting individual traces of mobility

ECOS
01 – Técnicas de aprendizagem automática aplicadas a problemas de audiologia
02 – Experimental analysis on the energy efficency of dynamic programming algorithms

IS
01 – Experimentação e evaliação de a-frame no desenvolvimento de VR interactiva
02 – Experimentation and evaluation of innovative techniques in Generative Game Design

LCT
01 – Desenvolvimento de aplicação para melhoria de desempenho académico através de sensores
do telemóvel
02 – Desenho e implementação de Security Gateway para dispositivos IoT em Smart Homes

SSE
01 – Automatic Classification of Software Defects in Big Data Systems
02 – Drone Hijacking.

Podem encontrar mais informação sobre as bolsas aqui
Podem consultar os planos de trabalho detalhados aqui