CISUC researcher, Professor António Dourado, is one of the invited speakers at the high profiled Open Your Mind! event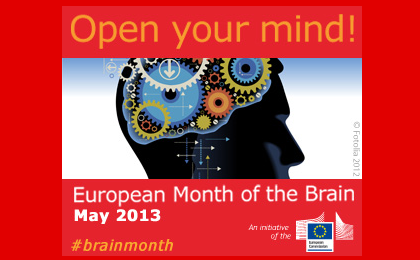 14th of May 2013 in Brussels
As part of the European Month of the Brain, the Conference European Brain Research:Successes & Next Challenges will take place on May 14th at Charlemagne Building of the European Union (EU), organized by the EU Directorate of Research&Innovation .
"The objectives of the conference are:
* To showcase and raise awareness about benefits, added value and impact of EU-supported research in the area of brain research and healthcare.
* To define the next scientific challenges for brain research (in particular in the fields of understanding how the brain works, disease prevention, diagnosis and therapy of brain diseases, and industry-driven research).

The conference is targeted to all interested stakeholders: scientists, laypeople, industry and patient representatives, policymakers and media."
Among the 10 projects selected by the EU as success cases, is the EPILEPSIAE (for epileptic seizure prediction) proposed and developed by an international consortium leaded and coordinated by the University of Coimbra. The Coordinator, Professor António Dourado, from DEI/FCTUC, will present the main results of the project, by invitation of the EU, in that Conference.