CICM 2014 + ADG 2014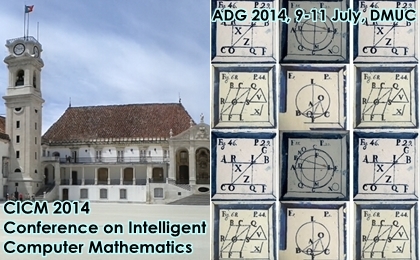 July 7-11 2014
DMUC
Coimbra - Portugal
CICM 2014
Conferences on Intelligent Computer Mathematics
7-11 July 2014
Coimbra, Portugal
As computers and communications technology advance, greater opportunities arise for intelligent mathematical computation. While computer algebra, automated deduction, mathematical publishing and novel user interfaces individually have long and successful histories, we are now seeing increasing opportunities for synergy among these areas. The conference takes place at University of Coimbra and consists of four tracks:
Track: Calculemus
Track: Digital Mathematical Libraries (DML)
Track: Mathematical Knowledge Management (MKM)
Track: Systems & Projects

Invited Speakers
- Yves Bertot, Inria - A naive view of Homotopy Type Theory and its relation to the calculus of constructions
- Jaime Carvalho e Silva, University of Coimbra - What international studies say about the importance and limitations of using computers to teach mathematics in secondary schools
- António Leal Duarte, University of Coimbra - Teaching Tiles (Joint Speaker with ADG 2014)
- Herbert Van de Sompel, Los Alamos National Laboratory - Towards Robust Hyperlinks for Web-Based Scholarly Communication
- Eric Weisstein, Wolfram|Alpha - Computable data, mathematics, and digital libraries in Mathematica and Wolfram|Alpha

ADG 2014,
10th International Workshop on Automated Deduction in Geometry
9-11 July 2014, University of Coimbra, Portugal
ADG is a forum to exchange ideas and views, to present research results and progress, and to demonstrate software tools on the intersection between geometry and automated deduction.
The previous nine workshops were held in Edinburgh 2012, Munich 2010,Shangai 2008, Pontevedra 2006, Gainesville 2004, Linz 2002, Zurich 2000, Beijing 1998, and Toulouse 1996.
The tenth workshop ADG 2014 will be hosted by the Mathematics Department of the University of Coimbra, Portugal, 9-11 July, 2014.
Colocated with: CICM 2014, Conferences on Intelligent Computer Mathematics, 7-11 July.