PhD Scholarships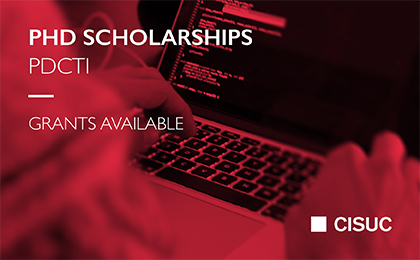 New Applications
Now Open!
The Centre for Informatics and Systems of the University of Coimbra (CISUC) is offering new research grants. This is an opportunity for students enrolled and new students to enroll in the Doctoral Program in Sciences and Technologies of Information (PDCTI).
Opportunities for applications are now open:
Call 1 - Intelligent Systems (IS)
The University of Coimbra offers one research grant to work on the Project "Intelligent Systems (IS) thematic strand of CISUC", with the following characteristics:The research work to be performed aims at characterizing the state-of-the-art within the area of Intelligent Systems, with a particular focus on machine learning, geared towards modeling and knowledge discovery. After the thorough analysis of the current state-of-the-art and identifying the main challenges, new models and algorithms will be studied, developed and validated in the context of real-world complex problems, namely, in the domain of life sciences.

Applications open until: 02nd October 2017
Click here to find out more

Call 2 - Human-Centered Computing (HCC)
The research work aims at characterizing the state-of-the-art and problem definition stages within the area of Human-Centered Computing, focusing in one or more of the following themes: Modeling and Evaluation of Human-Computer Systems, Computer-Assisted Creativity / Creativity Support Environments, Interactive Visualization/Sonification, Generative Design for Interactive Media, Game Design, Learning Systems, Interactive Public Displays, or Affective Computing. After an initial identification of the theme(s) to focus on, a thorough analysis of the current state-of-the-art will be performed, including ongoing international projects outcomes, the main gaps and challenges will be identified. The most relevant open issues in the theme(s) will be highlighted, and potential research proposals will be set out. Finally, the modeling and/or experimental assessment methodologies better fitted for the validation of
the proposals and comparison with existing approaches will be identified.
Applications open until: 26th September 2017
Click here to find out more
Call 3 - The Resilient software and Internet Services
The research work to be performed aims at characterizing the state-of-the-art within the area of resilience of Internet-based services, including cloud, fog and Internet of Things (IoT) environments. After the thorough analysis of the current state-of-the-art, including ongoing international projects outcomes, the main gaps and challenges will be identified. The most relevant open issues in the area of resilience for Internet-based services will be highlighted, and potential proposals will be set out. Finally, the modeling and/or experimental assessment methodologies better fitted for the validation of the proposals and comparison with existing approaches will be identified.

Applications open until: 03rd October 2017
Click here to find out more