CISUC researchers Awarded at International Conference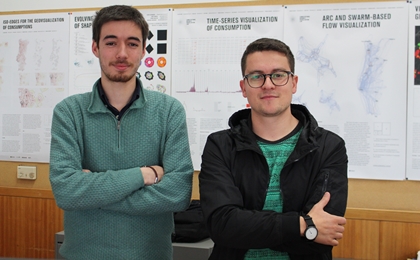 EVOSTAR 2018
CISUC researchers Tiago Martins and Filipe Assunção were awarded Best paper award at EvoMUSART 2018 and Best student paper runner up at the Evostar 2018 conferences. This work was developed in collaboration with other CISUC researchers.The event took place in April, at Parma, Italy. Congratulations!
1.
Best paper award at EvoMUSART 2018:
Martins T., Correia J., Costa E., Machado P. (2018) Evotype: Towards the Evolution of Type Stencils. In: Liapis A., Romero Cardalda J., Ekárt A. (eds) Computational Intelligence in Music, Sound, Art and Design. EvoMUSART 2018. Lecture Notes in Computer Science, vol 10783. Springer, Cham.
2. Best student paper runner up at the Evostar conferences:
Assunção F., Lourenço N., Machado P., Ribeiro B. (2018) Using GP Is NEAT: Evolving Compositional Pattern Production Functions. In: Castelli M., Sekanina L., Zhang M., Cagnoni S., García-Sánchez P. (eds) Genetic Programming. EuroGP 2018. Lecture Notes in Computer Science, vol 10781. Springer, Cham